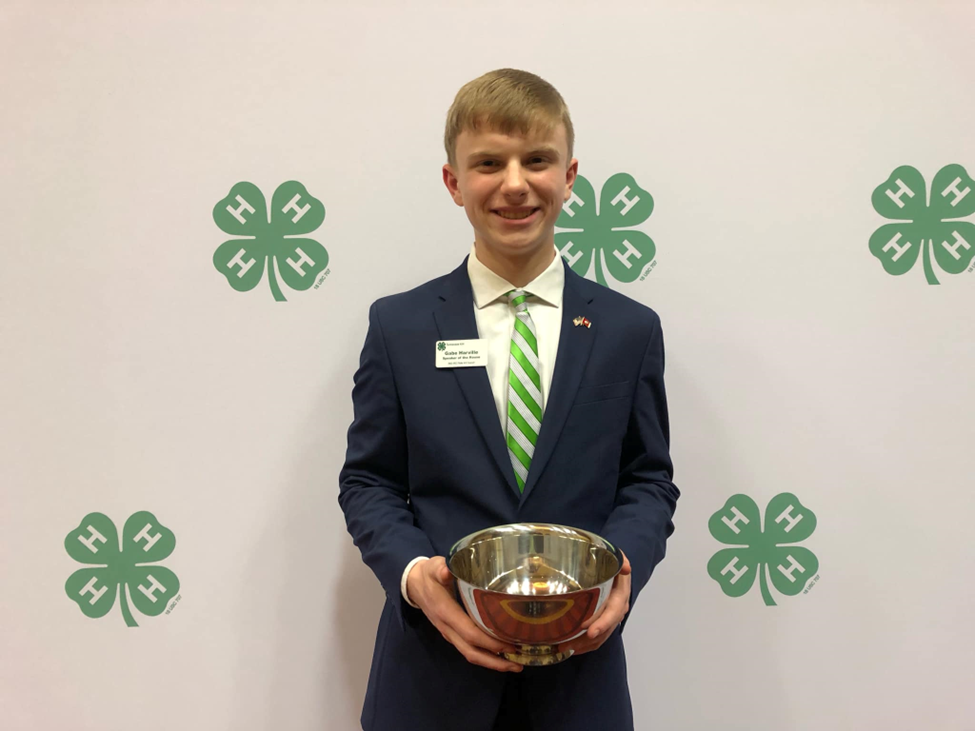 For the 76th year, 4-H members from across Tennessee gathered to participate in Tennessee 4-H Congress. The annual event, which took place on March 19-22, 2023, gives 4-H members the opportunity to learn about the daily functions of state government by taking the place of state representatives and senators. Since its beginning in 1948, 4-H Congress has given over 37,000 4-H members and volunteer leaders firsthand experience in civic engagement.
Our own Smith County 4-H member, Gabe Harville, competed in the State Public Speaking Contest while at 4-H Congress. Gabe was the state winner in the 10th grade division, winning an engraved silver bowl. Not only did Gabe win the 10th grade public speaking contest, but while at Tennessee 4-H Congress, Gabe served as the 2022-2023 Tennessee 4-H Congress Speaker of the House. This position allowed Gabe to be on the Tennessee State 4-H Council, to witness delegates debate mock bills in session, and to take the place of Speaker Cameron Sexton on the House floor. Senior high 4-H members also competed in the leadership and citizenship projects for college scholarships and a trip to National 4-H Congress in Atlanta, Georgia. The theme for this Congress was "Encourage, Empower, Embrace."
In addition to projects, competitions, and learning about state government, delegates participated in a number of other activities, including the Tennessee 4-H Congress Pageant, the election of the 2024 Tennessee 4-H Congress officers, a service project, the inaugural ball, and a new addition to the Congress schedule, a trip to the Nashville Zoo.
Smith County 4-H is very proud of Gabe and his statewide accomplishments. If you would like more information on how to attend Tennessee 4-H Congress or other 4-H activities, contact the Smith County UT Extension office at (615) 735-2900.
The 4-H Youth Development Program delivers programs through cooperative efforts of the University of Tennessee, Tennessee State University, and public and private sector volunteers. 4-H is a community of young people across America who are learning leadership, citizenship and life skills. 4-H educational programs are offered to all youth, grades 4-12, on an age-appropriate basis, without regard to race, religion, color, national origin, gender, sexual orientation or disability.