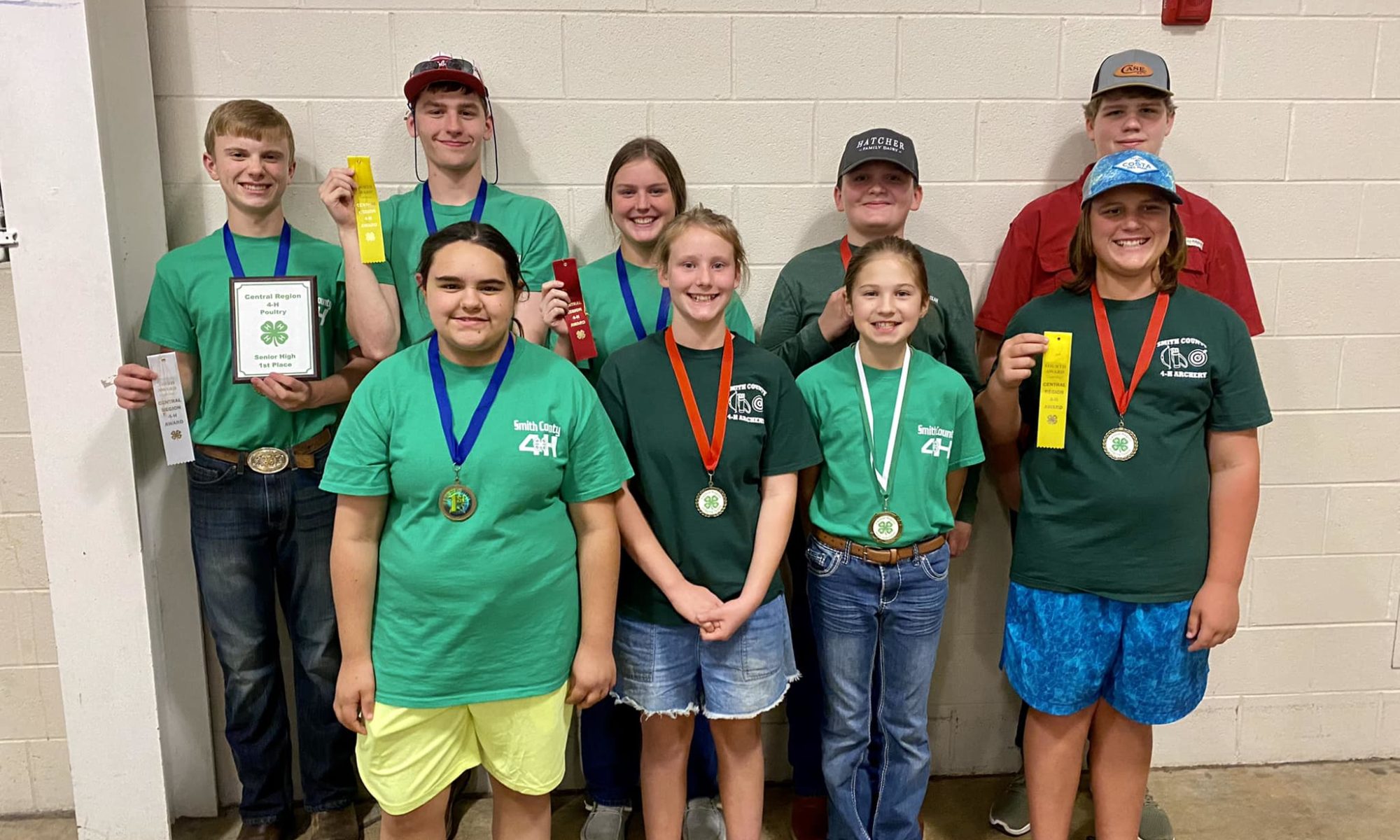 Nine Smith County 4-H Members had an opportunity to show what they had learned at the Central Region Poultry Judging Contest which was held in Murfreesboro on Wednesday, September 28, 2022.
During the contest, there are three classes where eggs are graded on quality: candling, broken out, and exterior. Contestants must know the parts of an egg and how it deteriorates over time when candling. A light is held to the eggs in order to see the interior. The shell is then graded in the exterior quality class, and contestants look for defects and abnormalities. Egg whites and yolks are graded in the broken-out class. Meat parts are identified and carcasses and parts are graded for quality in the ready-to-cook poultry classes. Further processed products which look for defects in chicken patties, nuggets, and other processed products round out the contest.
Smith County 4-H was represented by Tana Harville in the Junior Division, Owen Meeks, Turner Harville, Easton Bibbings, and Emmy Bibbings in the Junior High Division, and by Carson Meeks, Abby Malone, Kynlee Davis, and Gabe Harville in the Senior High Division.
Out of over 150 contestants, Tana placed 1st in the Jr. Division, Easton placed 4th and Turner placed 3rd in the Jr. High Division, and Abby placed 2nd, Gabe placed 3rd, and Carson placed 4th in the Senior High Division.
The Jr. High team was also the 2nd place team in their division, while the Senior High team placed 1st and will have the opportunity to compete at the state contest.
We are so proud of all our competitors for their hard work and effort in this contest. Many of our poultry judgers have chickens of their own, and the knowledge gained through this contest will help them better care for their birds and market their eggs. Congratulations to these young people on a job well done!
 The 4-H Youth Development Program delivers programs through cooperative efforts of the University of Tennessee, Tennessee State University, and public and private sector volunteers.  4-H is a community of young people across America who are learning leadership, citizenship and life skills.  4-H educational programs are offered to all youth, grades 4-12, on an age-appropriate basis, without regard to race, religion, color, national origin, gender, sexual orientation or disability.