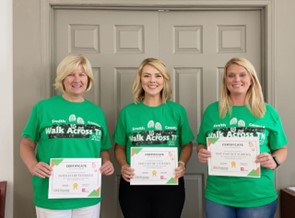 The University of Tennessee Extension Smith County partnered with the Smith County Health Department to offer Walk Across Tennessee in Smith County again in 2022. Walk Across Tennessee is a program that persuades and motivates people of all ages to make that most important change . . . to get started exercising.
Teams of eight worked towards the goal of walking, biking, swimming, etc. "across Tennessee" from Bristol to Memphis. Eleven teams "walked" the distance of Tennessee, a little over 500 miles! This eight-week program concluded on May 29th.
Thank you to our wonderful Walk Across Tennessee program sponsors: DTC, Smith County Drug Center, Citizens Bank, Sanderson Funeral Home, Riverview Regional Medical Center, Hackett's Discount Drugs, Wilson Bank and Trust, Smith County Drug Prevention Coalition, and Smith County Health Department. Because of our sponsors' donations, each participant received a Walk Across Tennessee t-shirt. The Smith County Health Department sponsored first and second place winners' prizes and DTC also sponsored various prizes.
The teams for this year's Walk Across Tennessee program were: Night Owls Team 1, Night Owls Team 2, The Young and the Breathless, Eight Maids a Walkin' Part 2, SCHD Sole Sisters, Holy Walkamolies, Motley Crew, Red Hot Chili Steppers, Not Fast but Furious, Citizens Bank, and Agony of De Feet.
Our third place team, The Young and The Breathless, finished with 2,264.44 miles! Members included Courtney Maynard, Brittany Watson, Peyton Glover, Samantha Reed, Carol Smith, Megan Campbell, Nick Campbell, and Jayrah Haley.
Our second place team, Night Owls Team 2, completed a total of 2,722 miles! Members included Janice Fox, Connie Dyer, Myrna Huffines, Jill Wilmore, Lisa Price, Martha Hesson, Teresa Kemp, and Kathy Wilkerson.
Our first place team, Holy Walkamolies, crossed the finish line with a total of 2,997.78 miles! Members included Rachel Kemp, Christina Martin, Peggy Manning, Monica Mowdy, Joe Mowdy, Victoria Hughes, Nicole Harriman, and Josh Kemp.
Congratulations to all the teams for completing this eight-week journey! You all made a huge accomplishment!
This year's awards are as follows:
First, second, and third place teams (listed above)
Angela Moss for being Most Outstanding Team Captain
Most Improved Team to Not Fast but Furious (Mary Leslie Wakefield, Tammy London, Donoven Rice, Kayla Franklin, Suzanne Angel, Tommy Angel, Justin Cantrell, and Chris Hodges)
Most Creative Team Name to Red Hot Chili Steppers (Katelyn Woodard, Abby Shivers, Johnna Craighead, Kristi Hassler, Kelly Bell, Kristy Buckler, Jessica Bull, and Amanda Cowan)
If you are interested in competing in the Walk Across Tennessee program next year, please contact Mary Parker Draper at the UT Extension office at 615-735-2900.