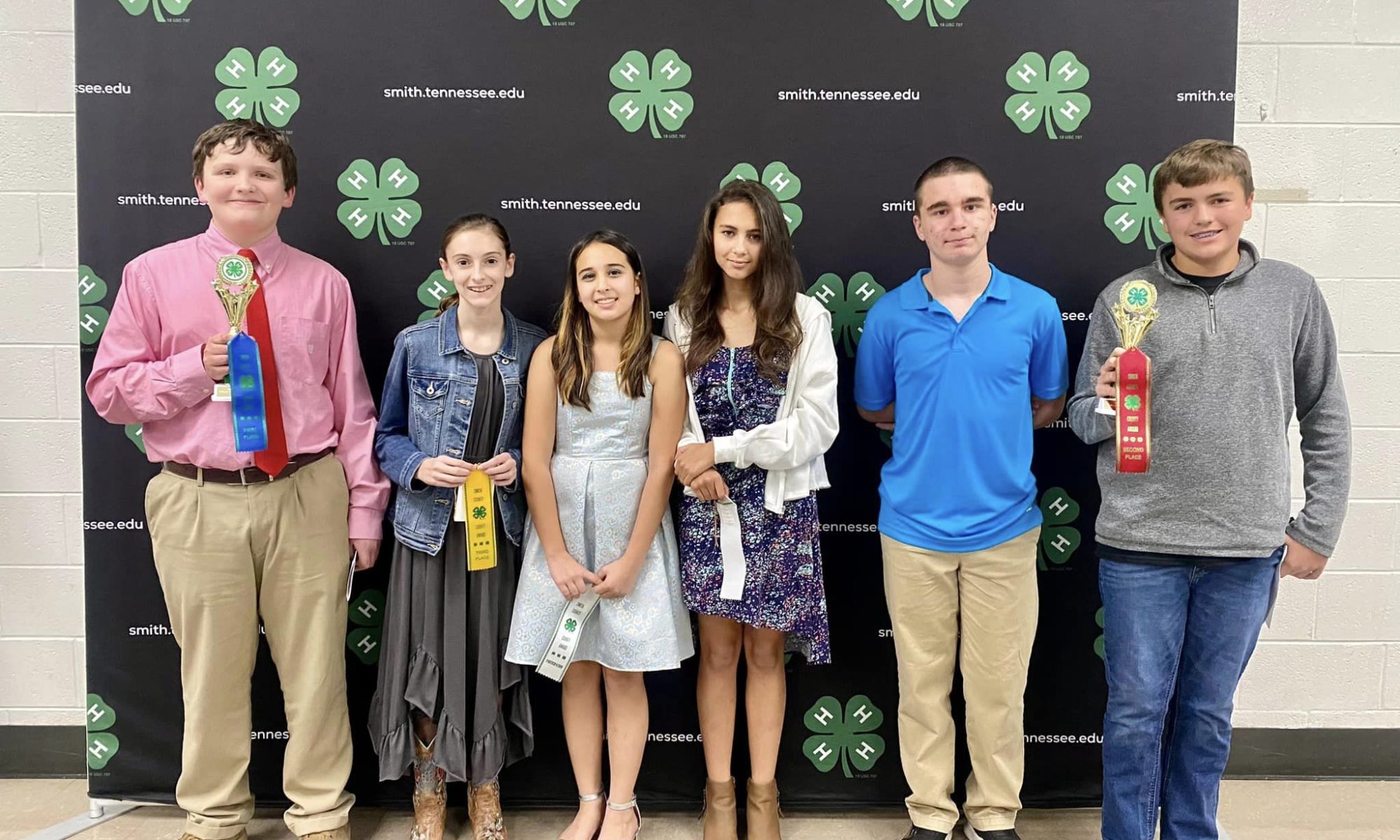 The Smith County 4-H Public Speaking Contest was held on Tuesday, December 13, 2022.
Local 4-H clubs from the entire county were represented by fifty-seven 4th-10th grade 4-H'ers who competed in this contest. 
The final results of the county contest are as follows:
4th Grade           
1st – Talon Pride, GES
2nd – Marshall Taylor, FRS
3rd – Due to the outstanding competition and close scores, the judges chose to award the remaining competitors with third place. Receiving 3rd place were: Brayden Reed, Liem Lathery, Tripp Medley, Colton Wright, Byrice Swann, Aubrey Hicks, Brynlee Payne, Dashton Keen, Katie Butler, Erica Paige Stinnett, and Clay Driver.
5th Grade
1st – John Haynes Winkler, GES
2nd – Emily Givens, DES
3rd – Jordyn Swann, GES
3rd – Kayley Campbell, GES
3rd – Wyatt Brown, GES
6th Grade
1st – Maddux Parker, SCMS
2nd – Kylie Harville, GES
3rd – Jasmine Burris, DES
7th Grade
1st – Turner Harville, Homeschool
2nd – Gage Blair, SCMS
3rd – Kadence Poindexter, SCMS
8th Grade
1st – Maicy Loreto, SCMS
2nd – Olivia Vargas, SCMS
3rd – Caleb Hensley, Homeschool
10th Grade
1st – Gabe Harville, SCHS
2nd – Abby Purtee, Homeschool
3rd – Kynlee Davis, Homeschool
3rd – Erin Hensley, Homeschool

Thank you to the parents, grandparents, teachers, principals, and all who have encouraged and assisted these 4-H'ers with their speeches. We certainly appreciate Smith County Middle School for the use of their facilities in conducting this contest. This speech contest was a great success due to the support of these 4-H'ers, parents, and volunteers!
The 4-H Youth Development Program delivers programs through cooperative efforts of the University of Tennessee, Tennessee State University, and public and private sector volunteers. 4-H is a community of young people across America who are learning leadership, citizenship and life skills. 4-H educational programs are offered to all youth, grades 4-12, on an age-appropriate basis, without regard to race, religion, color, national origin, gender, sexual orientation or disability.
 Call 615-735-2900 for further information relating to the many 4-H activities and events available to our great young people in Smith County.