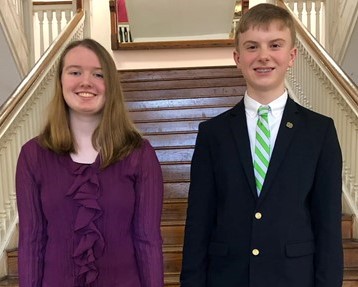 The Central Region's 4-H Public Speaking Contest for 9th–12th grades was held on Saturday, February 5, 2022, at Cumberland University. Senior High 4-H'ers gave a prepared speech that was 75% of their score and an extemporaneous speech that counted for 25%. In the extemporaneous competition, each contestant had one minute to prepare a two-minute speech after they were given a topic.
Smith County was well-represented by two outstanding 9th grade 4-H'ers. Gabe Harville and Abby Purtee both qualified at the Sub-Regional level to move on and compete at the Central Region Contest. Gabe placed 2nd and Abby received a participation award in a tough 9th grade competition. We are incredibly proud of the communication skills and hard work these 4-H'ers have exhibited!
UT Extension Smith County is an extension of the University of Tennessee working in Smith County to provide Real Life Solutions in agriculture, family & consumer sciences, and 4-H youth development. We work with youth, families, and land owners to provide education and solve everyday problems.
For further information relating to any of the many 4-H activities, events, and projects, please contact Katie Martin in the Smith County Office of the University of Tennessee Extension at 615-735-2900.