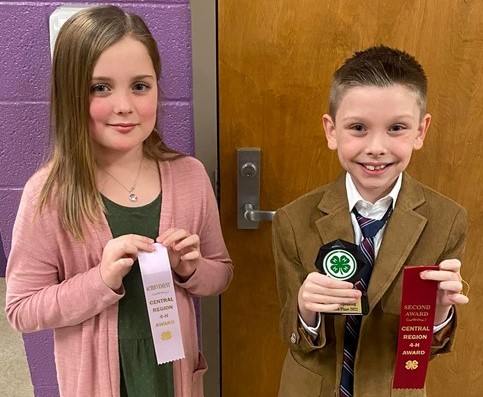 Eleven Smith County 4-H'ers, along with parents and grandparents, journeyed to Putnam County on January 24, 2022, for the Sub-Regional 4-H Public Speaking Contest.
To qualify to compete, 4-H'ers must have received either first or second place honors during the County Contest held in December of 2021.
The Sub-Regional Contest was extremely tough as top public speakers from ten counties came together to compete according to their grade level.
Lily Brawner and John Haynes Winkler competed in the 4th grade contest, with John Haynes receiving 2nd place. In the 5th grade division, Kylie Harville and Maddux Parker represented Smith County, with Maddux placing 2nd. Turner Harville and Matthew Blankenship did an outstanding job competing in the 6th grade contest, with Matthew placing 2nd and Turner placing 4th. Maicy Loreto competed in the 7th grade contest and placed 3rd. In 8th grade, Preston James and Talon Richardson competed and Talon placed 2nd. In the 9th grade contest, Smith County had two excellent 4-H'ers with Gabe Harville and Abby Purtee competing. Both of our Senior High 4-H'ers placed in the top 5 in 9th grade and will move on to the Regional Public Speaking Contest in February.
We are extremely proud of these outstanding youth that exhibited their life skills in communication!