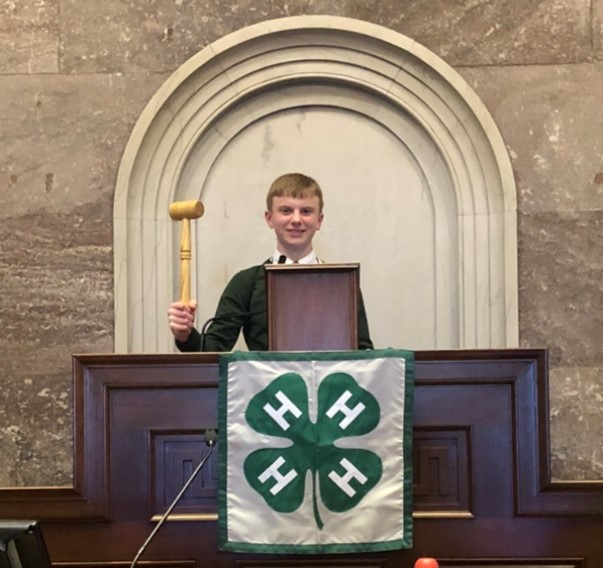 Written by Gabe Harville, 2022 County Reporter for 4-H Congress 
Tennessee 4-H Congress was held March 20-23, 2022, in Murfreesboro, TN and celebrated its 75th anniversary. Four Smith County 4-H delegates attended the event. Those students were Lauren Carlyle, Kynlee Davis, Jakodi Gibbs, and Gabriel (Gabe) Harville. While there, students learned about state government, leadership, and citizenship. Over the course of the three days, participants served as "senators" and "representatives", debated mock bills in the state house and senate chambers, learned about how laws are made, and met with their state senators and representatives.
State 4-H Congress is considered by many as Tennessee 4-H's premier citizenship experience. Delegates participated in a statewide book drive for Book'Em, whose mission is to "create a more literate Nashville and ignite children's passion for reading through book ownership and enthusiastic volunteers". Competitions were offered at the event in citizenship and leadership project interviews, senior high public speaking, and the annual Congress essay contest. Participants in these competitions, Tennessee 4-H Performing Arts Troupe members, and the 2022 Congress officers took part in the annual Congress pageant, "Tennessee: Land that I Love".
Students traveled into Nashville to Tennessee State University's Avon Williams campus and participated in "fun shops". These consisted of a scavenger hunt through downtown Nashville and an escape room. Smith County 4-H delegates had the pleasure of meeting with Representative Terri Lynn Weaver, the office staff of Senator Mark Pody, and Assistant Commissioner of Agriculture, Carol Coley McDonald. Delegates were able to observe the state 4-H History Bowl contest moderated by WTVF Meteorologist and 4-H Alumnus, Lelan Statom. Delegates were also treated to a dinner show on the General Jackson Showboat. On the last night of Congress at the Citizenship Banquet, delegates were joined by Governor Bill Lee as they celebrated 4-H's legacy. The night ended with the Inaugural Ball, a night of dancing and fun!
Gabe Harville ran for the state Congress position of Speaker of the House. With the help of his friends and other Congress delegates from across the state, they campaigned, and Gabe was elected by his peers. He will serve as a presiding officer at the 2023 Tennessee 4-H Congress and will also serve on the State 4-H Council for the 2022-2023 year. Smith County has had four Congress officers in the 75-year span of the event. In addition to Gabe, those include Mayor Sarah Marie Smith (Speaker of the Senate-1965), Stanton Webster (Speaker of the House-1993), and Greg Dowell (Speaker of the House-2007).
If you are interested in attending Tennessee 4-H Congress next year, visit the Smith County UT Extension office located at 125 Gordonsville Highway in Carthage or call 615-735-2900.