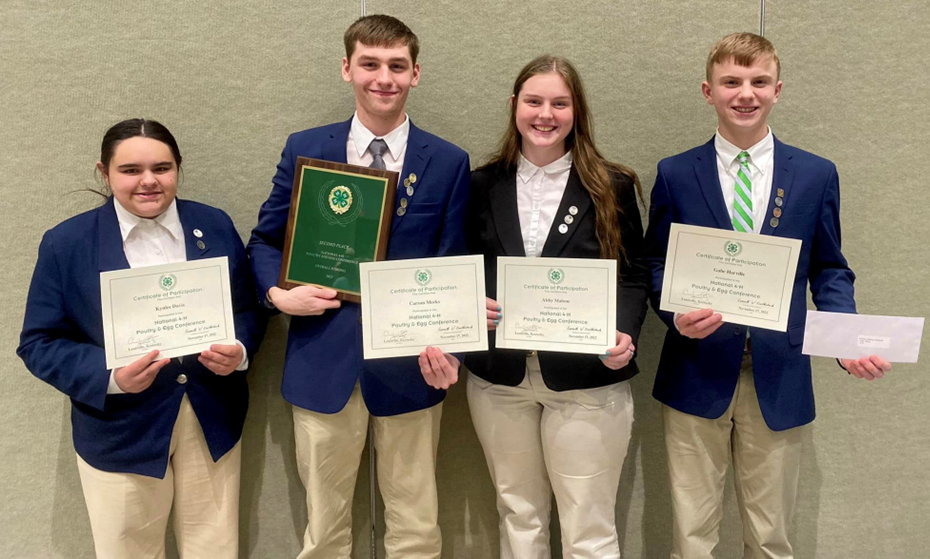 Smith County 4-H was proud to represent Tennessee at the National Poultry & Egg Conference held in Louisville, Kentucky on November 16-17, 2022. By placing first at the state contest in October, the Smith County 4-H Senior High Poultry Judging team qualified to compete at the National Poultry Judging Contest. The team was made up of 12th graders Abby Malone and Carson Meeks and 10th graders Gabe Harville and Kynlee Davis.
The contest consisted of 15 classes which included past production hens, ready-to-cook broilers, ready-to-cook roasters, parts identification, parts grading, further processed product evaluation, egg candling, exterior eggs, and broken-out eggs. Competitors also gave two sets of oral reasons where they had to verbally defend their placings in the past production hens' classes.
To have qualified to compete at this level was impressive enough, but these 4-H'ers took it a step further by placing 5th overall in the nation! The team was also 3rd place in the Market Poultry division.
Individually, Abby Malone placed 5th in the Market Poultry division.
Carson Meeks placed 2nd individually in the Egg Production and Market Eggs division.
Gabe Harville was the 13th high individual and Carson Meeks was the 2nd high individual overall. Both top 20 individuals received cash awards.
Other highlights of the trip included 4-H'ers being able to explore potential future careers in the poultry industry and talk with colleges that offer poultry science programs. We also toured Churchill Downs and had a fun pizza party and bowling night with the other states who competed.
We are so proud of all our competitors for the hard work they put into preparing for this contest. They represented Smith County and Tennessee exceptionally well. We want to especially thank the Manus family for supporting this team and making the trip possible.
The 4-H Youth Development Program delivers programs through cooperative efforts of the University of Tennessee, Tennessee State University, and public and private sector volunteers. 4-H is a community of young people across America who are learning leadership, citizenship and life skills. 4-H educational programs are offered to all youth, grades 4-12, on an age-appropriate basis, without regard to race, religion, color, national origin, gender, sexual orientation, or disability.